What's new at AAS?
AAS 2014 Fall Courses
Friday, October 24 and Saturday, October 25, 2014
Location: HILTON SAN FRANCISCO FINANCIAL DISTRICT
750 Kearny Street  I  San Francisco CA 94108  I  United States
Click here for more information »
---
SAVE THE DATE: 2015 Academic Surgical Congress
February 3-5, 2015
Encore Las Vegas, Nevada
ASC2014 Final Program Released!
---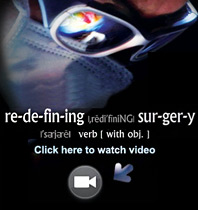 "Redefining Surgery" is now available both on DVD and as online streaming video.
Sponsored by the AAS, the American College of Surgeons, the Society of University Surgeons, and the Association of Program Directors in Surgery, this video is a contemporary documentary of surgery as a rewarding career – with cutting–edge technological advances, clinical and basic/translational research opportunities, a commitment to education and mentoring, and a priority on diversity and work-life balance. For more information, click here »
ANNOUNCEMENTS


YOU WILL HAVE THE OPPORTUNITY TO:
Renew your membership

Donate to the AAS Foundation

Change your contact information

Change your account password

Create /manage your AAS member profile
To pay online now, please click HERE
or call (310) 437-1606, ext. 126
---
Surgical Protocol for Possible or Confirmed Ebola Cases
---
Congratulations to AAS Past President Dr. Melina Kibbe on being named Editor in Chief of JAMA Surgery! 
Please click here for the full story:
www.feinberg.northwestern.edu/news/2014/08/Kibbe-JAMA-surgery.html
---
The Academic Surgeon is live!
We are pleased to announce the start up of the AAS blog, "The Academic Surgeon." This is your forum to read about and contribute to the discussion of Academic Surgery. Look for updates on  Tuesdays and Thursdays, and your comments on the material presented are welcome and encouraged. If you would like to contribute to the blog, please click here. We are looking for a wide variety of topics including leadership, productivity, changes in academic surgery, innovations in surgery and health care, and more.

The blog can be accessed here